Custom Playing Card Games
Custom Card Games
AdMagic is an experienced printer for Kickstarter campaigns for over 3 years, and printing custom card games is definitely our area of expertise. We handle all the prototyping, printing, packaging, shipping and delivery of custom card games to their final destination - whether it be to Amazon, a warehouse, or to your garage.
Printing all kinds of custom card games our main concentration. Samples of custom game cards and boxes we have created for clients like Bethesda Gaming's Dishonored Tarot, Cards Against Humanity, Storywar, Cross Crib, Originz, Nanobugs, Apocalypze, Werewolf by Max Temkin, Alex Seagrave Games, Norguard, Matt Busch - Konxari, and many others, can be seen below. Samples of cards are available upon request.
Custom Tabletop Games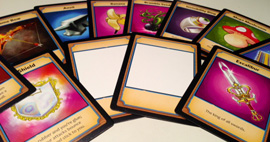 Custom game cards (tabletop game cards) differ from regular playing card decks in a variety of ways. While all playing cards need to be of a consistently high quality and color through out the run, the color on game cards is a particularly vital component, as most custom game cards tend use a lot of vivid color. In addition, many custom game cards for tabletop play need write on surfaces, while still requiring coating to protect the color on the game cards. Our production team and pressmen provide a consistent level of quality in color matching and in the application of special coatings and textures. Many of the custom game cards feature playing cards which have bleed edges on both sides or black edges on both sides. This presents a situation in printing and cutting which needs to be addressed with great care and attention to detail. Our pressmen are able to discern when a job will require special attention while the job is still in the preproduction or proofing stages. If we think there will be an issue - we will bring it to your attention - address the problem - and if necessary we will produce samples to be sure that you will be happy with the final results. We pay particular attention to cutting and finishing to ensure that every one of the custom card games printed by Ad Magic will have the best possible appearance and feel.
Custom Game Cards
Game card prototypes for Kickstarter
Custom tabletop card games are definitely one of our top specialties. In the past three years Ad Magic has seen a tremendous increase in the number of custom card games that inventors have actually taken to the final production stage. Most of this is due to the success these clients have had on kickstarter. Once the project is funded - and even before the project is written - AdMagic is available to help with all the details of your project. We are able to provide pricing, prototypes for photography or game testing, layout direction, artwork templates, and artwork as needed. Then, once your game project is funded, we can handle all aspects of printing, packaging and shipping. Some of the samples of custom playing card games we have printed appear below.
Creating a high quality game for all of our customers has gone a long way towards expanding our business and we are really appreciative for all of our clients. Thank you so much for sharing our information on game forums and for referring us to other game inventors.
We enjoy working with your projects from the planning stage through prototype and all the way through to production. We hope to continue to produce the successful games that many of our clients have already brought to market, while helping new inventors and game designers get their products manufactured as well. If you have a game to submit to the tabletop deathmatch - we look forward to that too.
Custom Templates for Your Cards and Boxes
Before you can begin designing and printing your unique custom card game you need to be sure you are setting up the cards and boxes correctly for the press we will be running them on. When you work with AdMagic - we not only custom design and provide the templates for you to use to design your cards, but we also design the custom templates for your box packaging. These are uniquely based on the specifications for your game. We consider the number of cards, whether or not to use a vacuum formed insert piece, the size of the final box, what the retail value of the game will be, and what other components will be inside the box itself. Each template created is as unique as our client's games.
Some clients require additional assistance beyond the template layout - and we are happy to help with whatever you may need in the way of art or layout services. . Fortunately we have 4 graphic designers on staff, including myself, and one of us is usually a good fit to oversee your design project. Once you are ready to provide your art, both the art staff and the pressmen will review it and proof it back to you in pdf form prior to placing your job into production. For color critical or complex layouts we may also suggest running a printed sheet proof.
Kickstarter Prototype Games and Game Pieces
AdMagic has been creating custom playing cards and custom board games along with many other custom printed items for clients involved in kickstarter campaigns and other crowd funding websites for over 3 years.
We have been in business for over 20 years though, printing on all kinds of substrates ranging from paper and plastic to metal, rubber, sheet fed clear and opaque vinyl, custom poker chips,custom shaped USB drives, custom wooden products, magnetic items, injection molded pieces (we made Bad Robot Checkers - they were cool) , custom printed tins, custom apparel and custom leather products to name a few things we have created for clients.
From prototypes for photography to finished products for sale - AdMagic can work with you every step of the way to ensure that you have what you need to show off your idea on Kickstarter to best advantage.
For each of your reward levels - besides being a kickstarter printer for many of your different rewards - Ad Magic can also provide you with complete quotes and cost estimates in advance, to help you set the levels to the correct numbers. This way, when your campaign funds, your items will cost what you expected them to cost. Items we can provide run the gamut for each tier level. As per the above list - you name it - we can probably print it. One of our most famous roles as a kickstarter printer is for our kickstarter client "Cards Against Humanity." Having launched one of the most successful kickstarter campaigns ever, they then turned the campaign into a growing business. Their now famous - well infamous - "card game for horrible people" has sold to players all over the US and Canada. Our role is the printing of the cards, boxes, expansions, special foil packs, and other printed items and giveaways for the game. Throughout the process we provide accurate quoting - timing for deliveries and management of all importing, customs clearances, freight forwarding, shipping and air delivery when needed.
AdMagic provides a complete service from design (yours or ours) to deadline - one that you - as someone who may be new to the printing and production industry - will appreciate for our expertise and accuracy.
We try to make the process of printing as easy and risk free as possible and we stand behind our work. We have clients who would be happy to talk to you and tell you that this is the case.
Having served thousands of clients in the corporate community - the show business community - the gaming community and the promotional industry - we are so pleased to be able to offer our services to the kickstarter and crowd funding community. Your ideas are exciting to us - and we want you to reach your audience with a professional - quality printed product you can be proud of.
We take being a custom kickstarter printing company seriously and therefore we take all kickstarter projects and quote requests seriously. Call us if you are starting a campaign and need a kickstarter printer we will do our best to help you out. Who knows - you may be the next big thing.