15 Most Bizarre Promotional Items Ever
Giveaways can be a great idea for generating web traffic, attracting interest in your product, and growing your brand. And, generally speaking, the more creative they are, the better. It's in this spirit of creativity, innovation, and, dare we say, lunacy that we tackle the 15 Most Bizarre Promotional Items Ever. Let's not keep you waiting. Here are our picks!
1. Tampa Bay Rays Giveaway (June 29, 2012) – Don Zimmer Teddy Bear
Nothing says "bizarre" like witnessing your child cuddle up to a teddy bear with Don Zimmer's face on it. The Tampa Bay Rays tried out this idea on June 29, 2012, in a game against the Detroit Tigers. The "Zim" Bear may not have been enough to pack in a sell-out crowd, but it has since become a popular image search online for wacky baseball enthusiasts and those who are trying to control their overactive libidos.
2a. Macabre (1958 Film) – Insurance Policy for "Death by Fright"
Director William Castle forged a reputation in Hollywood as being one of the greatest showmen around – a P.T. Barnum of schlock horror movies, if you will (and those flicks were actually pretty good, for the most part). Macabre is one such example. We could tell you what it's about, but we're not talking about horror movies here. We're talking about awesome promotional items, and here's a great one if you can still find it: an insurance policy for "death by fright." That's right, the movie studio actually guaranteed a $1,000 payout should you die by fright during a showing of Macabre. To our knowledge, no one ever collected.
2b. Homicidal (1961 Film) – For Cowards Only, Money Back Guarantee!
Psycho contemporary has a little bit in common with the Hitchcock classic in its tale of a murderous young woman and her cruel brother. But the real story upon its release was the ticking clock at the end that gave frightened patrons a chance to leave if they were too scared. There was also this "For Cowards Only, Money Back Guarantee!" Ah, that William Castle, at it again!
3. Trojan Condoms (December and August 2012) – Boston and New York Vibrator Giveaways
Leave it to Trojan's Pleasure Cart to do the job your significant other should be doing, ladies! The Pleasure Cart was strategically crafted like a hot dog cart and rolled out onto the streets of Boston, where hundreds lined up on a Monday morning in December to get a piece of the action. In August, the company ran the same promotion for New Yorkers, pushing 10,000 vibrators on the public before all was done. Beats pregnancy, we suppose. No word on how many the Boston promotion moved.
4. Tourism BC (May 17, 2012) – Giant Vending Machine Giveaway
This giveaway may not have been comprised of the most bizarre items we've ever seen, but the means for conveying said items sure was! Typically you go to a vending machine to grab a Coke and a bag of Combos, not to make off with a bicycle or kayak. Well, Tourism BC must have gotten their wires crossed. In May 2012, they set up the behemoth you see in the picture in the middle of San Francisco's Justin Herman Plaza. We expect tourists from California will inundate British Columbia in 2013.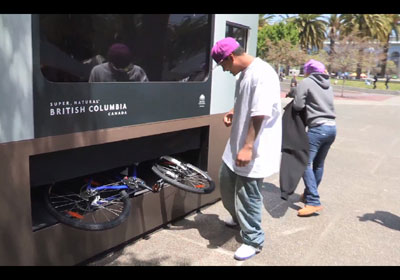 5. Cards Against Humanity (Christmas Season 2012) – Holiday Pack Expansion Set
Cards Against Humanity, makers of the now legendary card game, unleashed 30 brand new cards covering the holiday season – Kwanzaa, Christmas, and so forth – during Christmas 2012, and they did it in the way only CAH can. Thousands of holiday packs of this hilariously offensive game found their way to thousands of lucky homes just in time for Old St. Nick or Krampas or whoever. Each package cost CAH about $3 (shipping and all), but the company allowed users to decide how much they would pay. For those who chose the freebie route, CAH had a message: "Thanks, a**hole."
6. St. Paul Saints (May 27, 2006 / July 23, 2011 / May 25, 2008) – Assorted Giveaways
One day they will write a book – if they haven't already – about the crazy things the St. Paul Saints minor league baseball team has given away at their home games. Pictured here you will find the Anthony Weiner Roast Boxer Shorts to commemorate National Hot Dog Day (July 23, 2011); the Larry Craig Bobblefoot – shake it and the toe taps under the bathroom stall door – which celebrated accusations toward Sen. Larry Craig from a police officer claiming Craig tried to play footsie with him in a public restroom stall (May 25, 2008); and the Minnetonka Queen Bath Toy, which marked allegations toward Minnesota Vikings players Daunte Culpepper, Moe Williams, Fred Smoot and Bryant McKinnie, for indecent conduct aboard ship charters for a local boat service (May 27, 2006). Bill Murray is part owner in the team if that explains anything.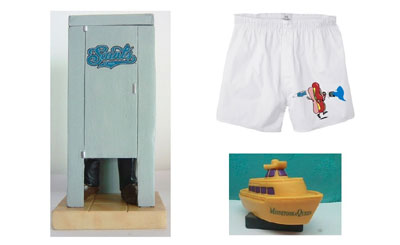 7. Bad Robot (Christmas 2012) – Pancake Kit Giveaway
Here is a unique, feel-good item from the guy responsible for breathing new life into Captain Kirk and Crew. J.J. Abrams' production company Bad Robot wanted to do something nice for the troops during Christmas 2012, and what's nicer than pancakes!? The pancake mold is in the shape of the Bad Robot logo. The rest of the kit contains an apron, pancake mix, Yum syrup, a tattoo, a recipe book and a lot more, all packaged in a convenient toolkit box.
8. Style Bizarre (Oct. 2, 2012) – Waist Censure / Body Harness Giveaway
We've always heard that the waist censure is supposed to go on the inside of the garment, but Nuit Clothing has other ideas. Last Halloween season, to celebrate the gothic fashion scene, Style Bizarre teamed with Nuit to give away this combination waist censure / body harness that you're supposed to wear on the outside of your clothes. Ah, these crazy kids today!
9. Papa John's (December 13, 2010 – check the Monday after Sunday's game) – 10 Free Toppings Giveaway
A Papa John's in our nation's capital was obviously reaching the point of despair for creativity when they decided on this bizarre fiasco. While Redskins fans were having difficulty finding something to cheer about during the 2010 season, the pizza chain decided to give away 10 free toppings in honor of running back Ryan Torain's 121 first-quarter yards. First of all, really? How random is that! Secondly, and this is where the promotional item gets pretty bizarre, who has ever eaten a pizza with 10 toppings on it? We didn't even know there were that many to choose from, but then it can be difficult when you equate the word "topping" with "meat."
10. BIZARRE and Rimmel (Sept. 11, 2011) – Signed Union Jack Guitar Giveaway
The terms "rock star" and "musical genius" are probably not what come to mind when you hear mention of British model Kate Moss. So how was it that in September 2011, BIZARRE and Rimmel teamed up to give away a Union Jack guitar signed by Ms. Moss herself? Isn't that sort of like the samurai sword signed by Randy Jackson that Will Ferrell was so proud of in Step Brothers? Oh well, it may not make sense, but it doesn't have to. We probably wouldn't turn down either one.
11. The Freebies Blog (Oct. 18, 2011) – Chocolates with Movie Stars Giveaway
Chocolate is awesome, but we've been burned one too many times by Valentine's Day candy boxes that house what appears to be a lovely looking truffle until you take a bite and end up with a mouthful of some kind of disgusting jello mold. Nevertheless, this little giveaway from The Freebies Blog in October 2011 would be a welcome addition to the pantry. Even if there are only three good pieces of chocolate on the inside, you can celebrate two of the big screen's loveliest ladies looking their best on the covers. Random, yes, but great for any home theater!
12. Reading Phillies (Aug. 3, 2010) – Ryan Howard Garden Gnome Giveaway
First, Don Zimmer Teddy Bears, now Ryan Howard Garden Gnomes. What is it with baseball teams and their desire to turn their managers and players into weird mutant fantasy creatures? On Aug. 3, 2010, the first 2,500 fans to show up to the ballpark in Reading, Pa., earned the obvious bragging rights that go along with owning a creepy bearded gnome version of your favorite baseball player. Not quite as high up on the wet-your-pants scare factor scale as Zim Bear, but still nothing you want to end up alone with in a dark room.
13. Namco Bandai (February 2010) – Muscle March Fake Protein and Underoos Giveaway
The Namco Bandai really got in to their Muscle March game that allowed players to simulate what it was like to be a bodybuilder and fitness juggernaut without actually having to attend a weight room. To help further the fantasy, they provided a fake protein supplement canister and a pair of skin-tight underoos. It's uncertain why the syringe and deer antler spray ideas weren't included. Maybe the Muscle March logo wouldn't fit?
14. Stupid.com and That's Nerdilicious (October 2010) – Crazy Halloween Candy Giveaway
Candy giveaways on Halloween may not seem like such a bizarre promotional idea – after all, millions of houses across America give away candy each year under the pretense of trick-or-treat – but when you consider what the candy in this October 2010 promotion from Stupid.com and That's Nerdilicious actually is, another story starts to emerge. No Nestle Crunch or Take 5 bars here, kids, but you will get Zombie Blood, Gummy Eyeballs and Urine Candy. Yum! (Don't worry, it's not really zombie blood, gummy eyeballs and urine – at least, we don't think.)
15. Noisey and Action Bronson (December 2012) – G-Pens Giveaway (for Your Weed)
Weed smoking isn't nearly as Reefer Madness faux pas as it used to be. If it was, would Mr. Action Bronson himself – his Christian name – have teamed with Noisey in December 2012 to give away G-Pen vaporizers that are meant for that very purpose? With more and more Americans opening up to the idea of "legalizing it," these products of concealment may no longer be necessary in a few years, but until then, those so inclined can puff-puff-pass much easier with the G-Pen.
Those are our bizarre promotional items. What are yours? Share your picks with us in the comments section below.
Tagged as: Bad Robot, bizarre, cards against humanity, custom promotional items, don zimmer, garden gnomes