Try Out Our New Custom Playing Card Deck Builder!

Create Your Own Custom Playing Card Deck Online!
Now available through our Your Playing Cards brand, we have a brand new online card deck builder which allows you to create beautiful personalized card decks (custom backs and faces!), that are printed on Casino Quality paper and delivered within a few days, all for super affordable prices.
---
AdMagic Manufactures David Dobrik's 100K Puzzles!
We're proud to be a part of this crazy product promotion! Check out the website here: https://100kpuzzle.shop/ and if you're looking to manufacture large runs of high quality custom puzzles, take a look at the info we have on our puzzles page.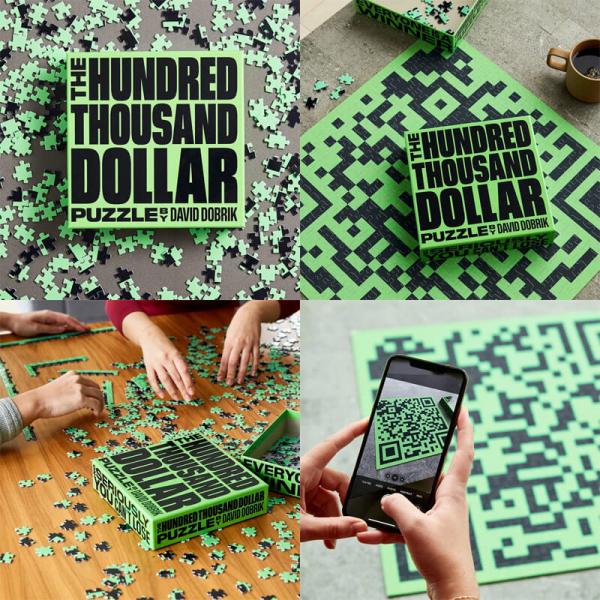 ---
 
Yes, We're Open!
All AdMagic Companies and Brands, Ready to Serve You
As we continue to keep a close eye on the news surrounding the coronavirus (COVID-19) and its growing impact, all of our companies and brands are collectively taking steps to ensure the safety of our team members while maintaining the level of service you are accustomed to receiving from our company.
We like to think positively. These crazy times are a actually really good opportunity to hunker down and get creative, and get to work. Whatever your project needs, we're here to help you from your initial idea to the final product, so let's get it going!

---
Recent Articles
ROI-NJ.com - Coronavirus Outbreak Forces Board Game Maker to Think Outside the Box
For Netcong's Breaking Games, a creator and manufacturer of board games that are sold in retailers and elsewhere, the coronavirus pandemic has caused a few headaches. That's especially true, given that many products in the burgeoning industry are manufactured all or in part in China, one of the first countries to lock itself down due to COVID-19.
REW Online - Game Maker Takes 100,000 s/f of NJ Warehouse Space
Game publisher and manufacturer, Breaking Games, LLC, has subleased 102,839 s/f at 200 International Drive in Mount Olive, announced Cushman & Wakefield. Stephen Sander, based in the commercial real estate firm's East Rutherford  office, represented the sublandlord, Bosal USA, in arranging the sublease.
Interview with Authority Magazine with AdMagic CEO Shari Spiro
Shari Spiro of Ad Magic and Breaking Games during the challenges of dealing with COVID-19 and a recession: "Be strong, especially when times are tough; You cannot be a leader if you don't have strength"
Interview with Bloomberg: Taking On International Board Game Counterfeit Market
Used already on some of the world's most popular games, now you can protect your game with a Breaking Games proprietary Izon® 3D photopolymer authentication label, the strongest overt 3D protection solution currently available in the world from Breaking Games.
Who, What, Why? Podcast featuring Shari Spiro of AdMagic!
Shari Spiro, the owner of AdMagic, joins the show to talk about holograms and intellectual property security in the board game industry. AdMagic created a 3D photopolymer hologram label to attach to each of their games in an effort to combat board game piracy overseas. Shari shares the genesis of this idea as well as some tidbits about her previous job with holograms. This was a wonderful interview, and Shari opens up about all sorts of topics from this photopolymer product to Sparkle*Kitty.
---
Custom Products We Manufacture
Impress with Custom Printed Card Decks and Tuck Boxes!
15 card styles available including Poker, Jumbo, Bridge and more
Custom printed decks (backs and faces) from your supplied art
Fully custom Tuck, Window and 2-Part boxes from your supplied art
Casino quality paper and finish
Each deck cellophane wrapped individually
Personalized Playing Cards | Custom Board Games
AdMagic offers the widest variety of imprinting methods in the marketplace to create personalized playing cards and custom board games.  Our custom playing cards can be made using foil, digital printing or offset printing.  The method we will use for your personalized playing cards is determined by three things - your deadline, your artwork and your budget. Game boards come in all shapes and sizes - from printed game boards to custom injection molding - let Ad Magic put the entire project together - we specialize in printing kickstarter games.
Foil stamp playing cards make an elegant impression whether they are being used as personalized wedding favors, promotional playing cards, corporate gifts or trade show giveaways.
Photo playing cards (aka full color or four color process) playing cards are perfect for custom playing card games, corporate product catalogs, training or educational playing cards, wedding playing cards, retail card decks, promotional items and memorabilia decks.  Photo playing are made of the finest quality materials and are made to stand up to years of use. They can be printed using a digital or offset method.
Customized Playing Cards in Custom Shapes and Sizes 
Whether you need a one color imprint, four color process, or foil stamp, we can print your order on a wide variety of playing card sizes. We offer pinochle, bridge, poker, miniature decks and tarot (flash card) sizes. We also offer customized playing cards in unique shapes. If you need custom shaped playing cards, even chicken leg custom playing cards, we can die cut those for you and provide a custom box to fit them.  We can provide you with art templates for your graphic designer or we can complete the art in house for you – many times at no charge!
Rush Custom Playing Cards
Custom Playing cards are a creative way to put your message, logo, product line, game or training program into the hands of your target audience, but our clients find that it is often necessary to meet a fast approaching deadline.  AdMagic is your answer for rush orders of custom playing cards.  Our list of happy clients rave about our ability to deliver a quality product, on time. Rush custom playing cards are our specialty. All decks are fully customized and to your specifications. With some of the most educated and fastest customer service in the business and a true love for what we do, our staff treats your job with the urgency and attention it requires to deliver on time. 
Feel free call to call AdMagic at any time of day or night for rush orders.  Call our TOLL FREE number 888-423-6244 for prompt service. Someone is always available to help you or to return your call quickly. Our in house design staff is available to help you 7 days a week with your layout - often creating art from scratch when necessary to proof your order of custom playing cards immediately and then get it directly into our plant for production.
Customized Playing Cards
AdMagic makes customized playing card decks in high quality casino grade plastic coated stock and in 100 percent plastic. In fact our customized 100 percent plastic decks rival KEM quality, and our casino quality decks are comparable to Bicycle. Each card in every deck of custom playing cards is personalized with your imprint. We offer both customized playing card backs as well as personalized faces. Custom playing card decks are not limited to 54 cards - you can have as many cards as you require - which is especially useful for creators of custom playing card games.
Custom Poker Decks
Poker Players are very particular about their playing cards.  If you are running a tournament, are a regular player or want to create a deck of cards to be used exclusively for poker, please contact us with your requirements.  We can create linen cards, smooth finish decks, and 100 percent plastic decks with a Copag or Kem feel.
Promotional Playing Cards
Promotional playing cards are used to promote an event or a product and they can be handed out at trade shows, golf outings, poker events (like the World Series of Poker chips we did to promote Swisher), mailed to clients, given as a premium with purchase or as a memento for a special milestone in a company's history.
Custom Poker Chips
Custom poker chips can be personalized with either full color printing (four color process) or a foil stamp imprint.
We customize a wide variety of poker chip styles Ceramic, Cer Blend, ABS chips and foil stamp poker chips in shiny gold or silver foil along with customized boxes and packaging in wood, plastic, aluminum, leather and tin to complete your card set. 
Our custom poker sets contain 1 or 2 decks of custom playing cards, 100-500 fully customized poker chips with options for a dealer button, big and little blind buttons and 5 dice. The set boxes may also feature your engraved logo, a photo or they can be individually personalized with a name.
AdMagic Manufacturing
With over 20 years experience in the promotional products field, our staff at AdMagic has manufactured millions of personalized promotional items for some of the largest companies in the world - as well as for individuals celebrating a landmark occasion, like a wedding, anniversary, birthday or Bar Mitzvahs.
We lay out all of the art for your order in-house and a FREE PDF PROOF is included into our pricing. Whether you need to custom design a playing card deck from scratch, or to convert a low resolution logo into high resolution vector art, AdMagic responds quickly to all requests, many times within the hour. We can create casino quality Custom Poker Decks in as little as 2 days.
For more ideas on how to design your cards please visit our personalized playing cards gallery page.
Please call us at 888-423-6244 for your personalized playing card needs. You will not be disappointed in our customer service, our quality or our production time!