Custom Window, Tuck and Full Color Card Boxes
Custom Playing Card Window Boxes
Custom playing card boxes come in many shapes and sizes and one of  the most common and cost effective boxes are our window boxes.  White window boxes come standard and at no extra charge on all orders that do not feature our custom label box option - please inquire about our different box options when you are ready to order.
Additional options include black window playing card boxes and cello wrapped window boxes.  Playing Card boxes with windows come in white and black for poker-sized cards and white for bridge sized cards. In quantities of 200 and up, with offset printed orders, they are delivered in cello wrap to better protect both the decks and the boxes during shipping.
We also offer white window playing card boxes for bridge-sized playing cards and white double window playing card boxes for bridge and poker sized double deck sets.
Custom Playing Card Tuck Boxes with Full Color Labels
These playing card tuck boxes are offered at no extra charge and are customized by affixing a professional quality four color process printed label to the front of the playing card box. The tuck boxes are then cello wrap to better protect them during shipping.  The label matches the custom card backs and greatly enhances the decks giving them a finished custom look.
These boxes are not available with all orders but are available with many. Please inquire to see if your order is eligible.
Custom Playing Card Boxes Printed in Full Color
Custom playing card tuck boxes can be customized in full color with your information on all sides and all panels.  For a professional retail quality look, the front of the box, back of the box, top lid, bottom flap and sides can all be completely personalized with your information - including a bar code.  After the boxes are printed they are filled with the card decks and then cello wrapped to better protect the deck. They are also available in double deck size.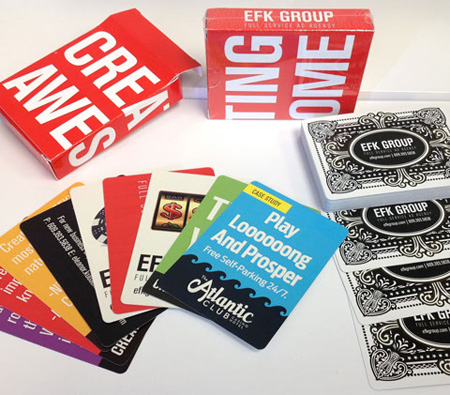 ---
Custom Window, Tuck & Full Color Playing Card Box Gallery