Foil Stamp Custom Playing Cards
Hot Stamp Playing Cards with Solid Color or Stock Background Backs
The full selection of solid color backs and available foils are shown below on this page. Foil Stamped playing cards with solid color backs (also known as hot stamped playing cards) are customized by hot stamping silver, gold, holographic or colored foil on a solid color back. These cards require clean, vectored black and white artwork in order to fabricate a metal die which "hits" the playing card stock while under a combination of heat and pressure. This is what creates the foil imprint on the card backs. The foil is carried on a roll and when it is heated and stamped it releases on to the card back - biting into the card stock for a permanent imprint. The gold is shiny gold - the silver is shiny silver and the colors are available in metallics and non-metallics. There are standard card stock colors available and standard foil colors as well. You pick your card back color and your foil color to make the combination that best suits your needs. This method of printing playing cards only works for artwork that can be made to look good as black and white art - and point sizes for fonts (your type) cannot really be much lower than 9 or maybe 8 points in some cases. Our production team at the factory and the staff at Ad Magic can tell your pretty quickly if you design will work for foil stamped playing cards - if not - then we can redesign it to make it work.
The advantages of hot stamped playing cards are that they are both elegant and durable. Pictures do not really do them justice - so feel free to email for samples of our work.  Even so - samples of foil stamp playing cards can be seen below and on our wedding playing card favors page.
Custom Playing Cards with foil stamp are available with one or two foil colors. Foil imprints must be first created in black & white, & point sizes for type must be 8 pt & above.
---
 Foil Stamp Solid Card Back Color Options
---
Card Back Color Options - Poker Size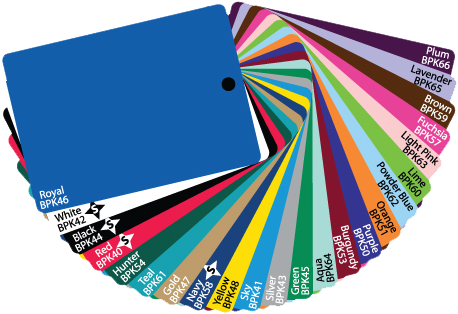 Card Back Color Options - Bridge Size
---
Card PIP Options
---
 Foil Stamp Custom Playing Card Gallery
Solid and Stock Background Designs